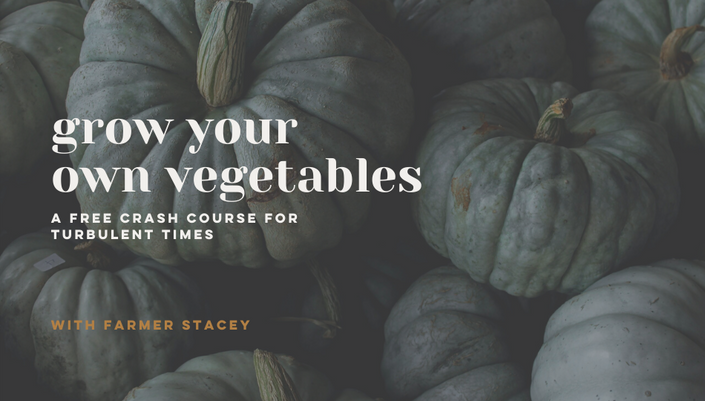 Your First Organic Veggie Garden
From Seed to Table, Learn How to Grow Your First Veggie Garden, Naturally
Empty grocery store shelves. Massive layoffs. Closed schools.
These are strange days we're living in.
Here on the farm my family and I are blessed with a strong, supportive community, food in the fields, and employment that's protected by essential service designation.
We know many others in our Farm Family and our community at large haven't been so lucky.
I wanted to do something, anything, to help.
I've been growing my own food for a long time - in both the country and the city. Growing my own vegetables has helped our family live on one income and has given us a sense of security in uncertain times. An afternoon spent with your hands in the soil is a balm for a weary spirit, with the added benefit that it can put dinner on the table, too!
So if you have some spare time on your hands (ha!), and a little bit of space - whether that's a spot in your yard or just a sunny windowsill, please join me.
Let's take this crisis as an opportunity to slow down, skill up and build a more resilient food system - and eat some gorgeous tomatoes while we're at it.

Even if you kill all the things, I promise we'll get you growing. It's not hard; you don't need a degree in biochemistry. We're gonna keep it simple and lighthearted. You can always eat your mistakes!
Join our Crash Course for FREE during the pandemic. I'm making this course in my spare time between homeschooling, birthing lambs, chasing pigs and planting my own garden. Don't expect a polished production here! I'm a busy, stressed out, worried Mama, just like all of you.
But I'd rather show up imperfectly for my community than not at all. So forgive me - while you learn to garden, I'll learn how to put a course online!
So here we go. Give yourself lots of grace and remember the words of my hero, farmer Joel Salatin:
Anything worth doing is worth doing, poorly, first.
Your Instructor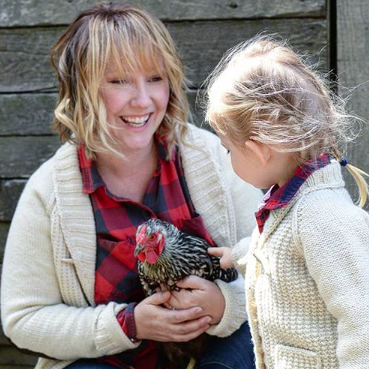 Stacey is The Mama to alllll the things at Coghlan Cottage Farm.
Over 10 years ago she traded her life of high-heels and pencil skirts for gumboots and chicken poop and never looked back.
Stacey now lives and works on a historic five acre farm in British Columbia's bountiful Fraser Valley. She lives with her hubby, Jeff, their two littles and an ever-growing menagerie of naughty farm animals.

Stacey is a Certified Organic Organic Master Gardener, Renegade Farmer and Slow Lifestyle Educator.
In the FREE version of the course you'll learn all the basics to get you growing right away.
Learn to Grow Naturally - in harmony with nature

Start Seeds Indoors

Build Your Soil Ecosystem

The Best Crops for Small or Shady Spaces

Gardening Ideas for Kids

And More
Wait, what? It's FREE?? Why?
Since COVID came to town, life on our little farm has been even busier than usual serving folks who simply can't get the food their families need at the grocery store.
As farmers, we've been well aware of the fragility of our food system for a long time. We also know how secure we feel during these difficult times knowing that we only need to look out the kitchen window to find our next meal.
I want to share the sense of security that comes with knowing how to grow even a little of your own food with my community.
I've also created a Master Class for those of you wanting to go beyond basics.
Whether you want to geek out on compost, go all-in on your heirloom tomato obsession or finally get those fancy backyard chickens you've been dreaming about - we've got you covered.
What won't you get?
Attitude, pretension or overly-complicated answers to simple questions.
We're not talking NPK or technical soil-chemistry here. Just practical gardening wisdom from a woman who knows what it is to juggle a garden and you know, life!
I'm making this course on the fly as I move through my own growing season here on the farm. You'll find me as I am - no makeup, kids in the background, imperfect but present. My pride and vanity matter a lot less than empowering y'all to get growing!
So please join me. Let's dig in.
Frequently Asked Questions
When does the course start and finish?
The course starts now and never ends! It is a completely self-paced online course - you decide when you start and when you finish.
How long do I have access to the course?
How does lifetime access sound? After enrolling, you have unlimited access to this course for as long as you like - across any and all devices you own.
What if I am unhappy with the course?
We would never want you to be unhappy! If you are unsatisfied with your purchase, contact us in the first 30 days and we will give you a full refund.
I don't have a big yard - will this course work for people with only a balcony or windowsill?
YES!! You can grow food just about anywhere with a little bit of creativity. We will cover tips for growing in apartments, balconies and city lots.
I kill all the things! Is this course suitable for complete newbies?
We are going to start right at the beginning with the absolute basics. Even if you've never gardened before you'll have all the info you need to get growing right away.
These are difficult days. But my many years in the garden have nourished an unwavering faith in the cycles of life. The garden reminds me daily that life always finds a way and that often what looks like an ending, is really a beginning.
"For a seed to achieve its greatest expression, it must come completely undone. The shell cracks, its insides come out and everything changes. To someone who doesn't understand growth, it would look like complete destruction." - Cynthia Occelli