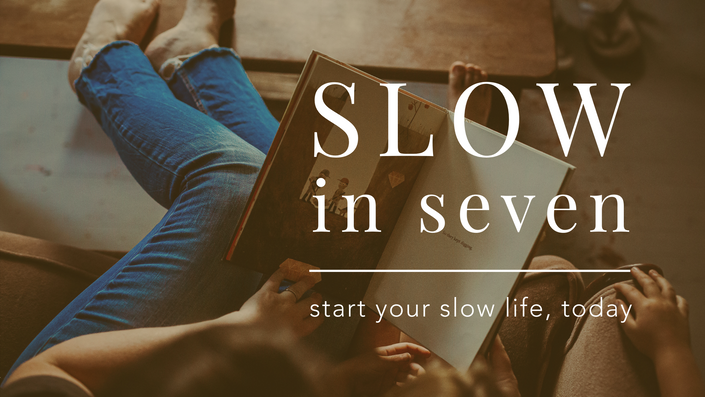 Slow In Seven
A short + sweet introduction to Slow Living for The Hustlers, The Burnt-Out + The Overwhelmed.
IN JUST 7 SHORT DAYS, LAY THE FOUNDATION TO
Overcome Overwhelm & Kick Burnout to the Curb

Slow in Seven is for hustling solopreneurs, overwhelmed mamas + burnt out creatives who want to slow down and simplify their lives so they can focus on what really matters.
---
Any of this sound familiar?
You've got a 'successful' life - you've checked all the boxes, but you still have a nagging feeling that something is missing.

You adore the #slowliving feeds on IG, but those beautiful photos look nothing like your life, so you gave up on Slow Living before you even started.

You've tried to slow down before, but saying "NO" to busy seems impossible.

You find yourself feeling anxious, stressed + totally overwhelmed by everything you have to do and all that's expected of you.

You feel like you can't catch your breath. All you want is to find some peace.
If any of that hits a nerve, you're in the right place.
PUSH BACK AGAINST BUSY
Ready to Slow the Heck Down + Finally Build a Life You Actually Love?
The most common question I get from my Simplicity From Scratch blog community is - I would love to start living a slower pace of life, but where the heck do I start?
Slow in Seven is the answer.
Slow in Seven is a simple, easy-to-complete course delivered over the course of a week via daily emails.
---
WHAT YOU'LL GET INSIDE SLOW IN SEVEN
Seven days of emailed notes from me, each one addressing a theme of Slow Living - one per day

Daily worksheets and journal prompts

A printable copy of my Morning Routine + Habit Tracker Workbook ( a $14 value )

Simple, actionable steps to Slow Down - not next year, not a month from now - TODAY
WHAT YOU WON'T GET
Attitude, judgement or pretension - come as you are, where you're at

MORE overwhelm - your plate is full enough already

Expectations that your life ought to look a certain way - every Slow Life is different, and together we'll help you craft a Slow Life uniquely suited to your lifestyle, personal challenges and goals
Are you breathing just a little, and calling it a life?
Mary Oliver
Here's some of the things we'll cover:
How to use Slow Living as a tool to make space for what matters
Develop your personal blueprint for the keystone habit that has been the #1 driver of positive change in both my life and my business
Identify and let go of the crap that's weighing you down
How to identify and root out any limiting beliefs that might be holding you back from the Slow Life of your dreams
Wrap your arms around what Slow Living might look like - for you
Your Instructor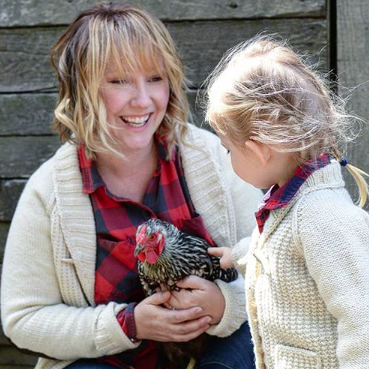 Stacey is The Mama to alllll the things at Coghlan Cottage Farm.
Over 10 years ago she traded her life of high-heels and pencil skirts for gumboots and chicken poop and never looked back.
Stacey now lives and works on a historic five acre farm in British Columbia's bountiful Fraser Valley. She lives with her hubby, Jeff, their two littles and an ever-growing menagerie of naughty farm animals.

Stacey is a Certified Organic Organic Master Gardener, Renegade Farmer and Slow Lifestyle Educator.
Frequently Asked Questions
When does the course start and finish?
Slow In Seven is a seven-day email-based course. Over the next week you'll receive one email per day, each covering a specific topic, along with worksheets and journal prompts. These are yours to keep and can be revisited anytime you need to catch your breath, refocus or start fresh.
How long do I have access to the course?
How does lifetime access sound? After enrolling, you have unlimited access to this course for as long as you like - across any and all devices you own.
What if I am unhappy with the course?
We would never want you to be unhappy! If you are unsatisfied with your purchase, contact us in the first 30 days and we will give you a full refund.
How do I know if the course is for me?
This course is for anyone feeling overwhelmed, burnt-out or just too damn busy. If you've got a nagging feeling that there has to be a better way, or you want to create more time and space for the activities and people you care about - Slow in Seven can help.
Does it matter if I'm new to Slow Living?
Nope! Slow in Seven is designed especially for folks just dipping their toes in the Slow Movement, or for those of you who gave it a shot before and are looking to gently return to some slow rhythms.
I don't have a ton of time. Won't I get overwhelmed?
That's why I'm here! Slow in Seven will gently move you step-by-step as you shift your thoughts, reframe your self doubt and cultivate more nourishing habits, routines and beliefs.
LEMME TELL YOU A SECRET . . .
Slow Living isn't about wearing nothing but linen + practicing micro-movement meditations while making your morning pour-over coffee in your Chemex.
( Yes, apparently that's a thing, and NO, I don't have time for that, either. )
---
I've been living Slow Values for over a decade now and what I've learned is this:
Slow Living is about getting down in the muck with the business of living.
Slow Living gives us tools to release ourselves from our addiction to morebiggerfaster. It frees us from the numbing tyranny of busy.
It helps us carve out time and space for what matters. For clarity. For breath.
Slow Living is about giving ourselves permission to feel deeply and honestly - every part of our lives. Even the messy bits. Especially the messy bits.
If we're present and intentional and open to ALL of it, we'll also discover the pure joy that comes from learning to grab hold of the extra-ordinary in the mundane moments of daily life.
Join the Unbusy Revolution today.